Whether you're cooking a festive feast for the first time, or you're having all the family round for their annual gathering, it's important to create the perfect Christmas dinner table. When your tree is shining out and the house feels warm and welcoming, one of the main tasks remaining is the preparation of your dining area for the biggest event of the year.
To make the occasion as enjoyable as possible, there's far more to it than just the turkey and trimmings. Create the perfect setting, so your home becomes the place to party over Christmas. Laying the Christmas table takes thought and effort, so don't leave it until the last minute.
Considering how busy you'll be on Christmas Day, it's best to lay the table the night before, as this gives you more time and you won't be thrown off schedule if any of your guests turn up early. First, make sure you have all the essential items to complete your table design. You will need a tablecloth, placemats, centrepiece, napkins, cutlery, candles and Christmas crackers.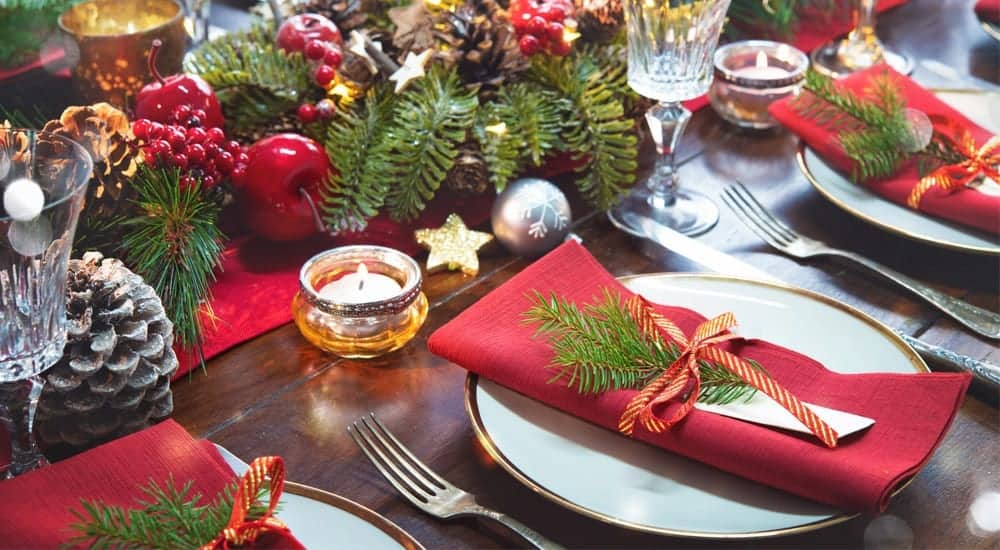 © Alexander Raths / Adobe Stock
Choose a theme
The first step is choosing a theme and the colour scheme. Start with the base – your tablecloth is more effective if it's plain, as this enables you to build up the theme around it. Popular colours for Christmas this year include pale frosted hues, pastels, red with white or green, burgundy and silver, or the traditional gold and copper shades, which never grow tired.
Having a clearly defined colour scheme can make the table look extra special and give it a personal touch. Using pastel tones is a key trend this year. If you prefer a traditional look, go for gold, or red and green. These themes look great if you complement them with natural materials, such as wooden-handled cutlery or wood placemats, for example.
Place the cutlery in the order in which it will be used, with the starter knife and fork on the outside, working inwards. It's usual to put the napkin on the left, on the side plate that is used for bread.
If the napkins are folded in a plain fashion, the side plate is the ideal place for them. However, if you're planning a professional origami creation, the napkin can sit in the middle of the place setting.
Centrepiece ideas
Whatever the size of the table, it's always a good idea to have a centrepiece. If you have a larger table, you can add candles, tea lights and other decorations. With smaller tables, you could leave them out if it's going to make it cluttered, but at the very least, make room for the centrepiece.
Bigger isn't necessarily better – work to the size of the table. Various designs will work, such as flowers, wreaths and candelabras. Smaller centrepieces can include candles, especially thick pillar candles in colours that complement your theme.
The inclusion of hand-written place-settings introduces a personal touch to welcome loved ones to the dinner table. It also enables you to organise the seating plan to avoid any awkward moments if you're hosting a big gathering where some guests might not get on. Brighten up the place-settings by adding a bauble or a sprig of holly. Use what works best with your personal theme.
A modern idea is to share photographs of your dinner table on social media sites, such as Instagram or Facebook, adding the hashtag #tablescape so other people can see your designs for inspiration next year.
When you're looking for the perfect furniture to stage your Christmas meal, check out the wide range of tables on offer at Let Us Furnish.
Our affordable dining sets are ideal for various sectors, such as care and social furniture, buy to let landlords' furniture and more. Give us a call on 0800 7819 427 for further information.
The Let Us Furnish team would like to wish you all a very Merry Christmas. Cheers!