Spring is an ideal time to deep clean your house, making sure you give it a good and thorough clean, so it feels fresh and airy in time for the new start that spring traditionally heralds.
A spring clean can benefit both you and your home. The change in the weather from cold and gloomy to sunny and bright makes many of us feel like starting afresh – and there's no better place to start than in our own home.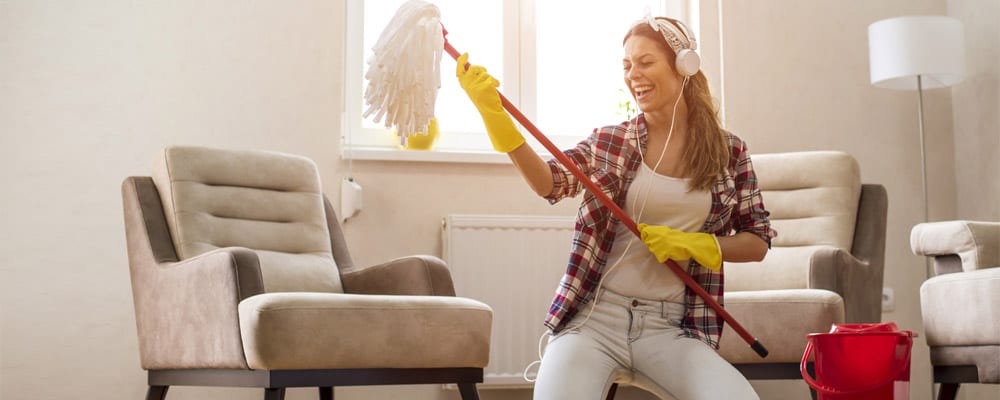 © Drpixel / Adobe Stock
Health benefits
If you suffer from allergies, dust and pet hair can set you off on a sneezing fit. Homes that contain a lot of clutter can gather a lot of dust and pet hairs during the winter.
A study by the American College of Allergy, Asthma, and Immunity has revealed that de-cluttering and cleaning your home can make you feel healthier by helping you to avoid the symptoms of allergies. As soon as spring comes around, start cleaning and help to alleviate those allergic reactions.
In addition, the act of cleaning can help to reduce stress. A cluttered home can cause a cluttered mind. People who set aside time to spring clean their home are also freeing their brain, enabling them to make better decisions with more clarity, according to the US Anxiety Disorder Centre.
Doing housework for just 20 minutes and using perfumed cleaning products, especially lemon-scented ones, can help to reduce anxiety and stress by up to 20%, according to studies.
Burn those calories!
Cleaning is also a physical workout, helping you to burn off excess calories. Just 30 minutes' vacuuming can burn up to 111 calories, so if you've felt lethargic during the winter and have eaten more, while snuggled up on the settee, now's the time to get active!
The more active you become when you're feeling sluggish, the more your energy levels will increase. It's known as a knock-on effect. Cleaning is the same as a low-intensity workout – so if you clean for just 20 minutes, three times a week, you can increase your overall energy level by up to 20%, thus reducing fatigue.
Once you've cleaned your bedroom and it smells fresh and new, you're more likely to enjoy a good night's sleep. A poll by the National Sleep Foundation revealed 75% of respondents slept better in a clean room, with clean sheets that had a fresh scent.
Best cleaning methods
Cleaning involves using what your grandma would have called "elbow grease" – this means putting on your rubber gloves and knuckling down to some good old-fashioned cleaning scrubbing and vacuuming to get your house looking spick and span.
You can deep clean your carpets using a carpet shampooer – you can hire these on the high street, if you don't want to splash out and buy one of your own. This not only gets rid of dust, dirt and pet hairs, it also restores the carpet's colour, thus brightening up your room.
Once you've completed the hard work of cleaning, it's time to take a look round at your furniture, fixtures and fittings. Getting rid of unnecessary items or those that you've had for a long time will make your house feel more like home.
Time for a change
It's easy to feel jaded when you're surrounded by the same old things, day in, day out, so keep the ones that make you happy and get rid of things that you don't need, or items that look shabby and no longer give you pleasure.
Seeing junk everywhere can be depressing, so give the items that you no longer need to charity. Once you have all your waste and surplus items bagged and boxed up ready to go, take them to the tip or to charity shops – or hire someone else to take them for you. Only then will you truly experience the great sense of satisfaction this can achieve.
Then, it's time to reorganise your furniture or get some new items to brighten up your home. You don't have to spend a fortune on changing everything. Even renewing simple items like cushions, throws, lamps, pictures or the coffee table can add a new look to the room.
Let Us Furnish can provide you with a complete furniture solution this spring, in the shape of furniture packs and bespoke solutions for landlords, care homes, student accommodation, property developers, letting agents and more. We have furniture rental packages for all properties and budgets.
Spring is just around the corner, folks, so it's time to contact us to see how we can help to rejuvenate your property.