There's something about the arrival of summer that makes people feel more active – and for many of us, this means trying our hand at a little DIY around the home. However, although we might have an abundance of enthusiasm and ideas, DIY just isn't everyone's forte.
While it's easy to set out with a lot of good intentions, unfortunately, there are several common DIY disasters that can befall even the most exuberant among us. There's an old saying that you sometimes "do a job and make a job" – and this is particularly true when DIY mistakes lead to more work and expense to put right the mess you've made!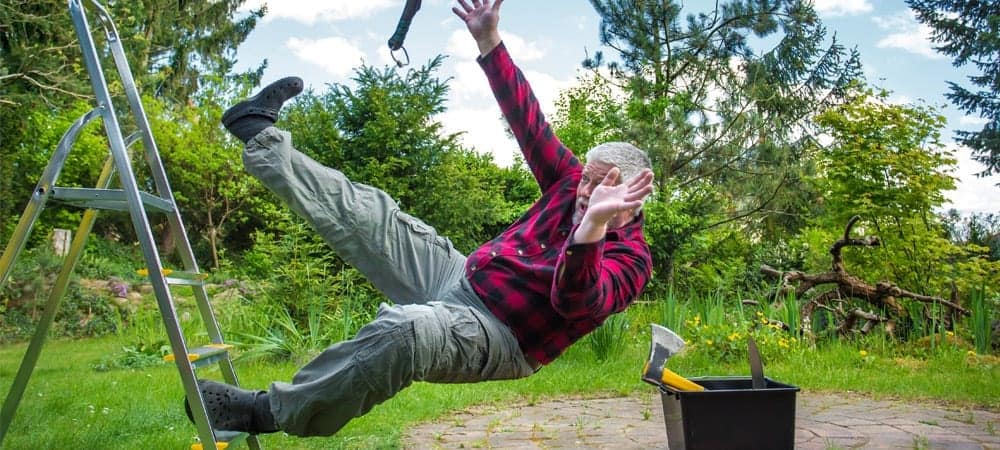 © Rainer Fuhrmann / Adobe Stock
Although some home improvement tasks lead to just an amusing tale to tell your friends, others can be costly, time-consuming and even dangerous.
Burst water pipes
It may seem an easy task to knock a few nails into the wall or floor, but do you know where your water pipes are? From doing a simple job, such as hanging a new mirror on the wall, to tackling something more complicated like installing laminate flooring, if you hit a water pipe, you'll soon know about it.
If you're working on a floor upstairs, you might find water pouring through the ceiling into the room below. You could end up having to call out an emergency plumber and then forking out to redecorate your home to repair the damage you've caused.
Before you start, invest in a wire and pipe detector that will save you a lot of hassle. It isn't an expensive piece of equipment and it could end up saving you a fortune.
Damaging electrical wiring
In a similar vein to damaging your water pipes, never drill through electrical cables and wiring that might be hidden inside your walls. Not only will you short-circuit the whole house, but you might cause yourself serious injury or worse, an electric shock.
Use the wire and pipe detector to make sure you know where your electrical cables are before you start drilling a wall, using your switches and plug sockets to give you a rough idea where the wires are.
Use tools that have insulted handles in case of an electric shock and make sure your power tools have a circuit breaker. If your DIY task involves anything to do with rewiring, it's best to employ a professional, as you could even cause a fire.
Falls from ladders
It's a shocking fact that 500,000 people across the world fall off a ladder every year, causing varying degrees of injury that often require treatment at the accident and emergency department of the hospital. According to the Industrial Safety and Hygiene News magazine, 97% of these ladder accidents occur at home, often when householders are trying their hand at DIY.
To avoid becoming an accident statistic, always make sure your ladder is the correct height, so you're not leaning or stretching too far to reach the job. Also, make sure it's stable and well-secured. If necessary, get a friend or family member to hold the base of the ladder steady while you work, particularly if you're outside working at gutter-level.
Fixtures and shelves
Fixtures that fall down is a common DIY disaster. One minute you've put up a shelf or another wall-mounted item, like a cabinet or a mirror, then suddenly, it's crashed down, causing a horrible mess and possibly even injuring someone. Make sure you use the correct length screw or bolt and ensure everything is screwed on to the wall properly.
If you're putting up shelves, make sure they are level. There's nothing worse than a slanted shelf after you've spent ages erecting it. Judging where it should be by looking at it alone isn't enough – use a spirit level so you know it's accurate.
Toilet disaster
While some DIY mishaps are quite commonplace, others are just too ridiculous to believe. The Reader's Digest reported how one father decided to try and solve the problem himself when a part from his young son's potty ended up falling into the toilet and getting wedged in the U-bend.
It seemed impossible to dislodge, but rather than contacting a plumber, he turned off the water, took the old loo outside and set the plastic part alight, with the idea it would melt and slide out of the toilet.
Unfortunately, the intense heat from the fire caused the whole toilet to crack and eventually explode, so he needed a new one.
Locked in
Another DIY enthusiast, who was painting the bathroom door, took off the handle rather than painting around it. However, he heard the click of the latch and realised he had accidentally locked himself in.
He decided to try and remove the door hinges to slide the door out of the frame, but it was so tight that it wouldn't budge. The window was too small for him to get outside – plus he had no door key to get back in anyway.
Eventually, the hapless DIYer had to kick and punch the bathroom door so he could escape, which meant he needed a whole new door, instead of a quick coat of paint on the old one.
If you're planning a spot of DIY, careful preparation and using the right tools for the job can save you from some major headaches and a lot of expense in the long run!
When you want your home to look its best, take advantage of Let Us Furnish and our range of household furniture. We offer a complete furniture solution, providing standard packs and bespoke packages for private homes and many sectors including landlords, letting agents, HMOs, professionals, local authorities and more.
For further information on our high-quality products and professional services, please contact us today.