The COVID-19 lockdown "almost ended homelessness" in the UK, according to the charity that supports homeless people, Crisis. As the pandemic swept across the world, leading to a national lockdown in Britain from 23rd March, the government introduced sweeping new measures to get people off the streets for their own safety.
As the pandemic created panic across the UK, homeless charities were hit with a deluge of people scared to be on the streets. Struggling to cope with the increased demand, they turned to the government for help and an aid package was launched.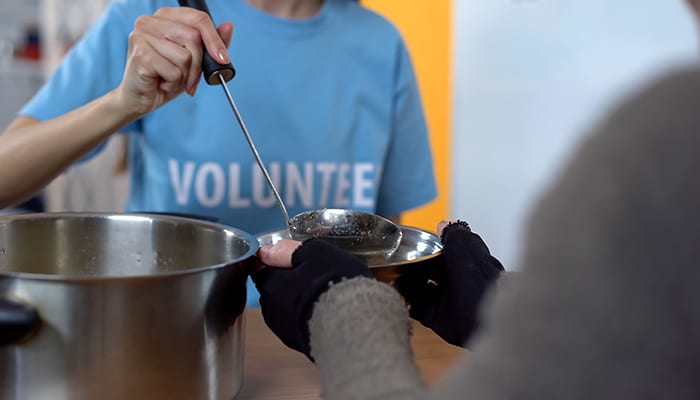 © motortion / Adobe Stock
The government announced £3.2 million was to be given to local authorities to house people who were already sleeping rough, or who were at a high risk of ending up on the streets, during the pandemic. Some hotels and B&Bs offered their support during the most challenging times, allowing homeless people to live in their vacant rooms.
How many people are homeless?
Prior to the COVID-19 crisis, an estimated 320,000 people were homeless in the UK, according to statistics compiled by The Big Issue. Every night, up to 5,000 people are sleeping on the streets on any given night, at all times of the year. This figure has risen by almost 50% since 2010.
In 2019, 84,740 households were living in temporary accommodation – an increase of more than 75% since December 2010. At Christmas 2019, Shelter estimated there were 135,000 children living in temporary housing.
Rough sleepers were the visible tip of the iceberg, as other people classed as homeless were "sofa-surfing" (moving about sleeping on various friends' sofas without a permanent home), staying with friends, or sleeping in their cars.
How many were housed during lockdown?
Communities secretary Robert Jenrick announced more than 90% of the UK's rough sleepers had been housed during the coronavirus crisis. After many years of "official apathy" towards homelessness, Crisis said this was "extraordinary" – but demanded to know why it had taken a pandemic to get homeless people off the streets.
For many people who had been sleeping rough, some of them for years, the sudden move into comfortable shelter in hostels and hotels was like a dream come true. Other schemes were set up in the accommodation, such as assistance with benefits claims and medical aid. This type of thing can be virtually impossible to manage when living on the streets, but the unique circumstances of the lockdown led to decisive action from the government and thousands of people getting a taste of what life could be like with the appropriate help.
How long will the aid last?
However, the obvious question remained: How long would it all last? While finding accommodation for 90% of the UK's homeless population was one positive thing to come out of lockdown, no-one knows how long their good fortune will last.
Despite the renewed focus on homelessness this year, according to The Big Issue, rough sleeping is something we should be concerned about all the time – especially considering 726 homeless people in England and Wales died in 2018 as a result – an increase of 22% on the previous year. Their average age was between 43 and 45 years old, showing the dangerous toll being homeless takes on people's health, as the average lifespan of people who are not rough sleepers in the UK is around 81 years.
How much is being spent on aid?
Crisis estimates it would cost around £282 million to find permanent housing for the next year for the homeless people currently in emergency hostels and hotels. The charity says although this seems a lot of money, the government has managed to find £20 billion to fund tax-cuts for businesses to help them weather the economic storm.
In addition, the government has paid more than £25 billion to support the furlough scheme to ensure the 9.3 million workers temporarily laid off as a result of the pandemic will receive 80% of their wages each month.
The charity says money is apparently available but wonders how much of it will be channelled into continuing help for the poorest members of society.
What does the future hold?
A report on the BBC suggested that when the government funding ran out, thousands of people would be back on the streets, with some suggestions that this could be as early as the end of July. Last month, the government pledged a further £105 million to help keep homeless people in accommodation after lockdown.
In addition, a £5.5 million fund has now been made available for homeless charities that have been affected by COVID-19, so they can carry on their vital work. It was announced by the Department of Health on 14th July that the money was earmarked to provide continuing support, even after lockdown.
This includes £4.82 million from The National Lottery Community Fund and £680,000 raised by Comic Relief. Crisis says although it has been particularly important to look after rough sleepers during the pandemic, if homelessness can be virtually wiped out in just a few weeks, why can't we do the same in normal times?
The government has announced it is to set up a new Rough Sleeping Taskforce to look into solutions to the ongoing problems and plan for the future.
Let Us Furnish provides high quality furniture packages for councils, social housing and housing authorities. During lockdown we remained open and helped several local authorities, throughout the UK, with their urgent furniture requirements, which in turn meant they could get the homeless off the streets.
Give us a call on freephone 0800 7819 427 for further information.