Did you know that having plants in the house can provide many health benefits? Research into the value of houseplants has shown they can achieve both physical and psychological benefits – particularly in terms of reducing the amount of indoor air pollution.
As well as looking good, houseplants are known to clear toxins from the air that we breathe. As the average person spends around 80% of their time indoors, we're always at risk from pollutants in the atmosphere.
Medical research has shown that a polluted atmosphere can increase our risk of a stroke, heart disease, lung diseases such as chronic obstructive pulmonary disease, lung cancer and respiratory infections in children.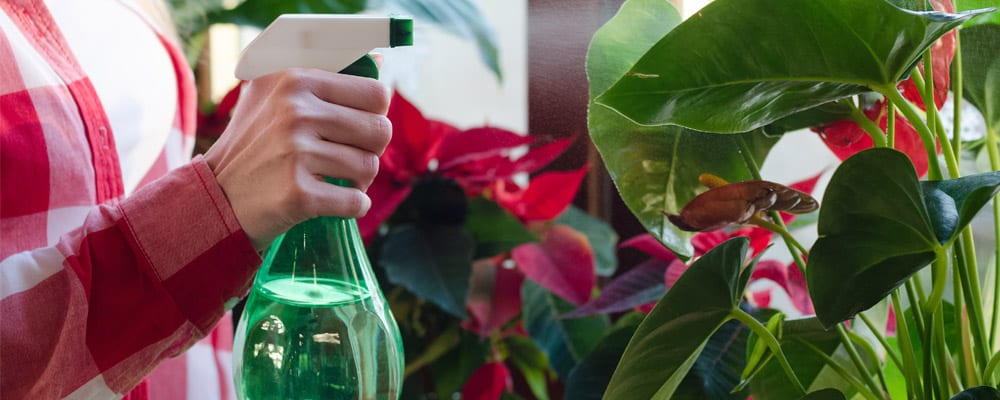 © tarasgarkusha / Adobe Stock
Health benefits
Plants are nature's own natural air purifier that help to remove potentially dangerous compounds, such as those caused by fuels.
Houseplants will reduce the carbon dioxide level in the home, increase humidity, reduce the number of pollutants, such as nitrogen dioxide and benzene, help keep the temperature lower and reduce the levels of airborne dust. The plants work by simply trapping and capturing the pollutants.
As a result, the physical health benefits can include fewer breathing problems caused by airborne pollutants, a 25% reduction in headaches and fatigue and lower blood pressure.
Research has shown indoor plants also have psychological health benefits, such as improving our mood, reducing stress, making us feel more productive and improving our attention span.
NASA research
The American space agency NASA has carried out its own research into the value of indoor plants. The research was related to the future design of spacecraft in terms of making sure the astronauts were kept in good health in the enclosed indoor environment.
NASA's 1989 study, Interior Landscape Plants for Indoor Air Pollution Abatement, claimed buildings constructed in the late 1970s that were designed to maximise energy efficiency were so well-insulated, reducing fresh air exchange through airtight sealing, that they caused allergy-related symptoms. These included drowsiness, itchy eyes, sinus congestion, skin rashes, headaches and respiratory congestion.
Scientists studied the effects of plants on reducing indoor pollution. They concluded the use of plants and their associated soil micro-organisms created a "promising approach" in the reduction of pollutants.
The joint study between NASA and the Associated Landscape Contractors of America covered two years of data collection.
Sick building syndrome
The presence of pollutants indoors, causing health issues, has led to the recognition of a phenomenon known as "sick building syndrome". A study by the World Health Organisation revealed around 30% of new or remodelled buildings suffered from sick building syndrome.
The problems with indoor air pollution include the identification of the trace chemicals that are causing health issues and their correlation with the symptoms. Energy-efficient buildings filled with high-tech equipment may be giving off organics which are interacting with each other.
According to studies by the Lung Institute, some houseplants are better than others in counteracting the effects of damaging pollutants. It recommends plants such as the Areca palm and other evergreens for the living room and Gerbera daisies for the bedroom.
Plants are said to be capable of removing up to 10% of carbon dioxide in the air indoors. Three to six plants in one room can keep air toxins below the recommended dangerous levels.
Reduce stress
Apart from their toxin-removal properties, plants help to create a feeling of well-being and reduce stress. For most of us, being close to greenery instinctively makes us feel more comfortable and relaxed in our surroundings.
A body of academic research has revealed that most people experience less stress in a room where there are plants – the room has an atmosphere that is quieter and more relaxed. Interior landscaping is said to be capable of having a "dramatic effect" on the occupants' well-being.
Improve your interiors with quality furniture from Let Us Furnish – that can be further enhanced with the invaluable addition of houseplants.
For more information on our wide range of furniture for property investors, please contact us today.