When you're the landlord of residential properties, renting to the wrong tenants can be an expensive and hassle-filled experience. It can so easily go wrong if you simply go by first impressions, as although people might seem very plausible on the face of it, it could be a totally different matter when you get to know them better.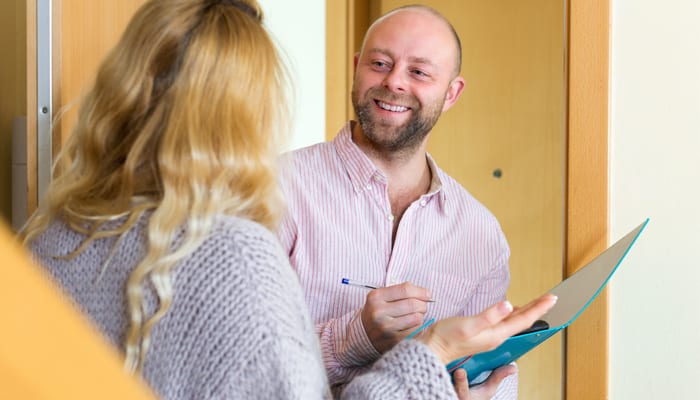 © Iakov Filimonov / Shutterstock.com
This is why it's important to know the right questions to ask potential tenants so that you can weed out the ones that are likely to be unreliable. Having a list of simple questions is a good way of ensuring misunderstandings don't crop up down the line that might lead to problems.
Read on to find out what questions you should be asking when checking out potential tenants…
Why are you moving?
Finding out why they want to live in your property is always a great opening question, so listen closely to their answer. Legitimate answers include needing more space, or changing jobs and moving to a new area.
Red flags include an argument with their existing landlord or neighbour or being evicted. This could be an indication of how they will behave if they become your tenants. If they are first-time renters, it will be up to you whether you accept them, as there won't be anything to base your decision on.
How many people are moving in?
If you interview two tenants who come to view the property, how do you know they're not moving more people in after they've signed the agreement? Ideally, you won't want any more than two people per bedroom. In legal terms, your insurance cover might limit the number of tenants who can live in your property. It's best to ask the question about how many people will be moving in, rather than just presuming.
How much is your income?
Although this may seem rather an uncomfortable question, it's a very important one. We tend to shy away from talking about our salaries, but you need the tenant to confirm they are financially stable. Can they afford the monthly rent? Bank statements will be a useful form of ID to request. If it looks like they can't afford the rent, as well as general living expenses, you'll be taking a risk if you let them move in.
Do you have references?
A reference from the current landlord, or an employer, will help you to understand the potential tenant's financial circumstances and whether they have a steady income that enables them to pay the rent on time. Your ideal tenant is someone with a steady, permanent job. However, in light of the fact a lot of companies don't offer fixed long-term contracts these days, this may not be possible, so take this into account. If your tenant has a short-term renewable contract, this doesn't necessarily make them a bad risk.
Do you have a deposit and one month's rent in advance?
Continuing the important theme of income and affordability, this is a pertinent question, as if the tenants can't pay this up front, before the move-in date, it doesn't bode well for future rent payments. However, tenants on a low income can sometimes get a budgeting loan from the DWP, or help from the local council, to help pay their way.
If you're prepared to accept tenants on housing benefit, the deposit and rent may be paid by the relevant authorities. As a landlord, you must legally protect the tenant's deposit in an official tenancy deposit protection scheme.
How long do you want to rent the property for?
Most rental contracts are initially for six or 12 months. If you have a choice between a tenant who wants a six-month rental term or one who wants to stay longer, this might sway you into accepting the longer-term renter, so you don't have to go through the same hassle again a few months down the line.
Do you have ID?
While a reference and a bank statement are useful, you may also want to carry out further checks to avoid potential problems later on. Utility bills are a good way to confirm the tenant's previous address, while a valid passport or driving licence confirms their identity.
Some landlords even ask to run a credit check on prospective tenants. You will need written permission to do this, but it's worth asking, to check for financial issues that might impact the tenancy. You may ask for their National Insurance number or further proof that they have a legal right to live in the UK and rent a property.
Renting furnished properties
There are specific questions you should ask, as a landlord of furnished properties, as you will have spent money providing furniture, fixtures and fittings for your tenants, so you want to minimise the risk of any damage.
The first question should be, do you have any pets? The Dogs and Domestic Animals (Accommodation and Protection) Bill is awaiting its second reading in Parliament. Backed by animal welfare charities such as the RSPCA, it aims to allow tenants to keep pets without their landlord's prior approval.
You may worry at the prospects of cats' claws damaging your sofa and chairs, or dog hairs covering your furniture and carpets. If you have a choice between tenants who have a dog, or equally suitable tenants who don't have pets, you may wish to play safe and go for the latter option.
If you have pet-friendly properties, find out what kind of animals the tenants have. They may have some small pets, such as hamsters and guinea pigs, or tropical fish, none of which would have a massive impact on your property.
Similarly, ask prospective tenants, do you smoke? Even if the tenants smoke, this may not mean refusing them, as many people smoke outdoors. You can also add a "no smoking" policy in the contract, but bear in mind you're not around to implement it.
Once you have worked your way through the list of questions to ask potential tenants, it's up to you to choose the applicants you feel are most suitable.