Many people across the UK have struggled to pay their rent or mortgage. With tenants not being able to afford their rent, this has impacted landlords, who have struggled to pay their own bills without this regular income.
The government introduced a number of initiatives to help tenants at the height of the pandemic. It banned evictions for renters who fell into arrears, but the ban ended on 31st May 2021. This means landlords can now repossess properties for non-payment of rent.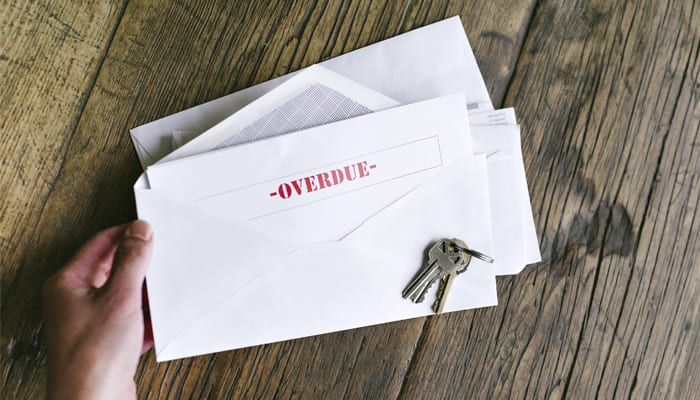 © Aaron / Adobe Stock
Coronavirus Act 2020
The Coronavirus Act 2020 provided protection for private and social tenants by preventing landlords from evicting them. Between 29th August 2020 and 31st May 2021, except in the most serious cases, landlords had to give their tenants six months' notice before starting eviction proceedings. The Act no longer provided the same protection from 1st June 2021.
For the estimated 400,000 UK private tenants in rent arrears, this is worrying news. According to data provided by the research group LSE London in May 2021, around 10% of private tenants are currently unemployed. This is around double the average unemployment rate.
Only tenants with current Assured Shorthold Tenancies, who are up to date with their rent, or no more than eight weeks in arrears, are safe from the threat of eviction.
Complex legal process
However, there is a legal process that landlords must follow to evict tenants. First, they must serve notice of eviction. In England, a landlord usually needs to give four months' notice. However, if the tenant owes more than four months' rent, the notice period can be reduced to just four weeks.
In Scotland and Wales, the landlord needs to give tenants six months' notice, while in Northern Ireland, they must give 12 weeks' notice. If the tenant hasn't left by the end of the notice period, the landlord can commence court proceedings for eviction.
However, in England and Wales, the landlord is also required to provide information on how the tenants have been affected by the Covid-19 pandemic. If the landlord doesn't provide this, the court case can be postponed until a later date.
If the court agrees with the landlord to evict the tenants, then the bailiffs can be appointed. They can gain entry to the property to remove the tenants' belongings, change the locks and take possession of the property.
The landlord can also request that the tenant pay the legal fees. Even if the court allows the eviction, it can take months for it to finally happen.
Landlords' financial headaches
Although it may seem harsh to start eviction proceedings against a tenant who has fallen on hard times due to the pandemic, landlords have their own financial problems too. Many can no longer afford any goodwill because their own bills and other debts aren't getting paid.
Landlords have many expenses of their own, not least of which is their mortgage. They will have to pay the mortgage on their own home, plus the buy-to-let mortgages on all their rented properties.
A landlord will also have other expenses. This includes their own bills and living expenses, the costs of keeping their rental properties in good repair and the monthly cost of furniture packages for their portfolio, for example.
Mortgage payment holidays
If a landlord is concerned about their financial situation, they need to discuss this with their mortgage lender. The government put mortgage payment holidays in place from March 2020, when the first lockdown began. The payment holiday help that has been in place for more than a year has officially finished now. Only borrowers who applied before 31st March 2021 are able to access the schemes.
To replace the official payment holidays; the latest idea is "tailored help" for people in difficulties. The Financial Conduct Authority has issued guidance that landlords with a buy-to-let mortgage, who are negatively impacted by Covid-19, should continue to be offered support through tailored options. This can include making reduced mortgage payments for a temporary period, or not making any payments at all in severe circumstances. The lender is also encouraged to increase the mortgage term to reduce payments over a longer period.
Around 127,000 borrowers are estimated to be on payment holidays, according to data from UK Finance. At its peak in June 2020, the scheme was supporting a massive 1.8 million mortgage holders.
Eviction v repayment plan?
For landlords whose payment holidays have ended, receiving late rent from tenants who are also struggling can spell disaster. This is why it's important to contact your lender as soon as possible if you're still struggling to arrange an individual repayment plan.
Landlords need to balance out their own financial needs with those of their tenants to try and find a mutually beneficial way forward. Evicting tenants over rent arrears is a long process that takes time and money to go through the courts. Even if the landlord wins and the tenants are ordered to pay the court costs, it is highly unlikely they will have the money to do so.
This also means more expense after the tenants are evicted, as the landlord will have an empty property, with no money coming in at all. You will have to refurbish it to ensure it's in good condition in terms of health and safety legislation. It also needs to attract new tenants, so it must be aesthetically pleasing.
Some landlords are taking the view they would prefer to try and negotiate an arrears repayment plan with tenants, rather than taking the drastic and expensive step of launching eviction proceedings.