Letting properties to students can be a lucrative market for landlords, as you can be assured of a steady demand and long rental periods, resulting in a higher yield. Before taking the plunge, make sure you have all areas covered and know what to expect from this growing sector.
There are a number of specific considerations you will need to take into account. Understanding the ins and outs of the market will give you every chance of success. The number of students in the UK is more than 4.5 million, so there are obvious benefits to offering student accommodation.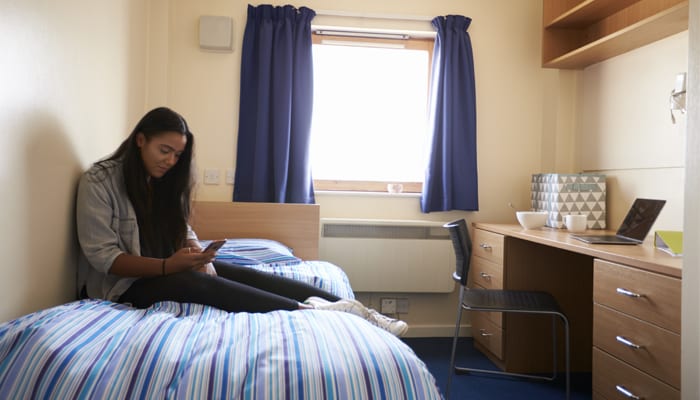 © Monkey Business Images / Shutterstock.com
Which properties are suitable for students?
There are certain criteria on which properties are suitable for student letting. The property should have a minimum of three bedrooms and large communal spaces, such as a kitchen and lounge; there should be sufficient space in the communal areas to comfortably house everyone within the property.
The same goes for space in the fridge and cupboards in the kitchen, for example. The landlord must make sure there is adequate room for all the occupants in terms of communal space for leisure, cooking and dining. There must also be adequate storage space for all the tenants' belongings.
Having more than one bathroom or toilet will be a great selling point. A garden is always a bonus, too.
Where's the best place to buy student property?
Ideally, choose a location no further than 30 minutes' walking distance from the university or college. If you're too far away to walk or cycle into classes, this may deter some students from renting your property.
Very few students can afford their own car. If they are short of money, as many students are, using public transport every day may not be an option, so if your property is within easy walking distance of the campus, this is a massive bonus.
Students want convenience and good value, so rent out properties in convenient locations and keep your rent as low as possible. When your tenants are relying on student loans or wages from part-time jobs, providing value for money is crucial.
Should you provide fully furnished student accommodation?
Although it isn't compulsory by law to provide a fully furnished property for students, it is expected. When your tenants are busy dealing with a new chapter in their life, settling in at university and finding their feet, the majority won't have the time, money or inclination to provide their own furniture.
Just about every student tenant will expect and prefer the property to be furnished. Landlords who plan to let to students should have a check-list of the minimum requirements when it comes to furniture.
You should provide white goods such as a washing machine, cooker and fridge-freezer in the kitchen at the very least. A microwave would come in handy too, plus sufficient storage space for cooking utensils, plates, cutlery and other essential items.
If there is enough space, a dining area will add value to your student property, as the dining table is a place where your tenants will enjoy congregating over breakfast or an evening meal.
You should also provide beds and wardrobes, plus a desk and chair, for each student's room, as it will double as a study as well.
In communal areas, you should provide a sofa and armchairs. Most landlords will also provide a television for the lounge. You need to supply carpets, curtains and lampshades.
Although not mandatory, supplying a vacuum cleaner will encourage your tenants to keep the property clean. You should provide bins too, plus a lawn mower, which will hopefully ensure your garden doesn't end up like a forest.
Although you may feel concerned about the additional cost of furniture, you don't need to provide the same luxury items that you would for a luxury penthouse apartment, for example. Of course, you need to provide good quality furniture that meets modern safety standards, including fire safety.
Many landlords find it more cost-effective to use a professional supplier and installer of furniture packs to keep the costs down and the quality high. This saves time by getting everything from a single supplier, who will deliver and install your furniture to save you the time and hassle of doing so.
When is the best time to market to students?
Every area is different, but in general terms, students usually start looking as early as January for accommodation for the new academic year starting in September. This means you need to start preparing your properties many months in advance, so they are ready to be viewed as soon as your potential tenants start searching.
You can always liaise with the college or university and take students who are recommended to you. This is also a bit of a safety net for landlords to protect against bad tenants.
Some landlords ask for a guarantor for student tenants, usually a parent or legal guardian, who will accept financial and legal responsibility for the tenant for the duration of their tenancy.
If you let your properties to students in their second or third year, they will know what is expected of them and will be less likely to cross boundaries when it comes to looking after your property.
Does any legislation cover student lets?
As you're most likely to be letting to occupants who are sharing a property, but who are not a family group, your lets will be covered by legislation relating to HMOs.
The law in England and Wales calls for smoke detectors to be installed and the electrics to be checked every five years. There must also be adequate cooking and washing facilities, with the communal areas remaining clean and in good condition.
There is a similar law relating to HMOs in Scotland, where it is a criminal offence to operate an HMO without a licence. There is a maximum fine of £50,000 for breaking the law.
In Northern Ireland, the Houses in Multiple Occupation Act (Northern Ireland) came into force in 2019. It requires landlords to have a licence for each HMO they own.
If you're prepared to put in the research and legwork to ensure your properties are up to scratch, you can make a decent living as a landlord who lets to students. Contact Let Us Furnish on 01792 798839 for details of our furniture solutions for rental properties.