As the UK government begins to relax the COVID-19 lockdown restrictions, the business world is coming back to life. After three months of working from home, people are starting to return to the office, although employers must still adhere to strict safety guidelines to prevent the spread of the virus.
The government issued new guidance on safe working practices to coincide with businesses classed as "non-essential" reopening on 15th June. A specific set of guidelines relates to office and contact centre employee safety.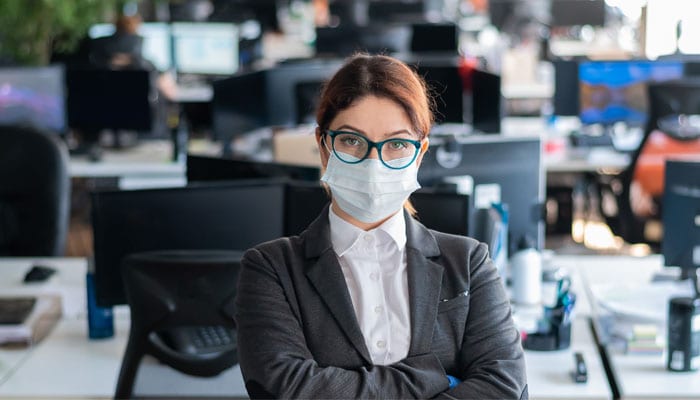 © Михаил Решетников / Adobe Stock
Reducing risks
Employers are tasked with reducing the workplace risk to the lowest possible level by taking various preventative measures. They must liaise with any contractors sharing the workspace to make sure everyone's health and safety is protected.
The main advice is to increase the frequency of surface-cleaning and handwashing. Hand sanitiser should be provided where possible and areas and equipment that are used frequently such as door handles, lift buttons, coffee machines and kitchen areas should be cleaned more often.
Social distancing
Offices must also make every effort to comply with current social distancing guidelines, keeping people two metres apart whenever possible.
If social distancing can't be practiced in relation to certain activities, employers should consider whether the activity in question needs to be carried out in order for the business to operate. If the activity is vital, then take mitigating action to reduce the risks of virus transmission.
This can include performing the activity as little as possible, increasing the frequency of surface-cleaning and handwashing, using barriers or screens to separate the workers from each other and using side-to-side or back-to-back seating arrangements, rather than face-to-face, when possible.
The employer must also reduce the number of people each employee has contact with as much as possible. One solution is to set up staff in teams, so each person is working regularly, with only a few others on their specific team.
Risk assessments
If any activities are considered to be particularly hazardous, then the employer should carry out a risk assessment to see whether it is safe to proceed, as no-one is obliged to work in an environment they consider unsafe.
The assessment should take into consideration whether any of the employees are particularly vulnerable to COVID-19. The management should look at any safety advice produced for their specific sector by other groups, such as trades unions, or trade associations.
Employers are strongly advised to carry out a risk assessment of their workplace as a whole. As a lot of businesses are already up and running, it's likely that the majority will have done this already.
Updating guidelines
As the situation changes, so will the government advice, so it's useful to use your own risk assessment as a document that you can update in accordance with the official guidelines.
For example, on 23rd June, Prime Minister Boris Johnson announced plans to reduce the two-metre rule to one-metre-plus in England, largely to allow the hospitality industry to start reopening from 4th July.
He said people should continue to adhere to the two-metre rule when possible, but if this wasn't possible, they should keep a minimum of one metre apart, while mitigating the risks of infection by wearing face coverings.
While no official guidance on this rule relaxation has filtered through to the office and call centre sector yet, the government advice may be further updated from 4th July.
Rearranging furniture
When assessing your workplace, consideration should be given to how much personal working space each staff member has. Desks should have sufficient space between them to adhere to social distancing and there should be dividing barriers when possible.
If there are too many employees to ensure they can maintain a safe distance, then remote working should continue, when possible, to reduce the amount of face-to-face contact. In larger, open-plan offices, one-way systems can be introduced in walkways to avoid bottlenecks developing in busy shared areas.
Although it has not been made mandatory to wear PPE, such as face masks and gloves, in the workplace, this is something that employees can do if it makes them feel safer.
In shared spaces, such as meeting rooms and kitchens, a redesign should take place to enable the appropriate social distancing measures to be carried out. These commonly include floor markings and signage to remind employees to maintain a safe distance from each other.
New way of thinking
It may be necessary for organisations to change their way of thinking to adapt to this "new normal". Determine your goals for the forthcoming months, so that when adapting your working space to meet safety guidelines, you can plan the office layout carefully.
It's a challenge to balance safety legislation with your company's needs and goals, but it's something that must be done. With careful planning, your business can keep functioning – and as a nation, we can minimise the future impact of coronavirus and hopefully prevent a new wave of infections.
If you need new office furniture to improve the working environment, or adapt to a new layout for safety reasons, contact Let Us Furnish on 0800 7819 427 for details of our contract furniture and variety of packages that provide a cost-effective solution to your needs.