Running a small business is challenging at the best of times – so if you suffer a fire or a flood, it could spell disaster. In particular, the UK has suffered an increasing number of floods in recent years, leaving many domestic and business premises devastated.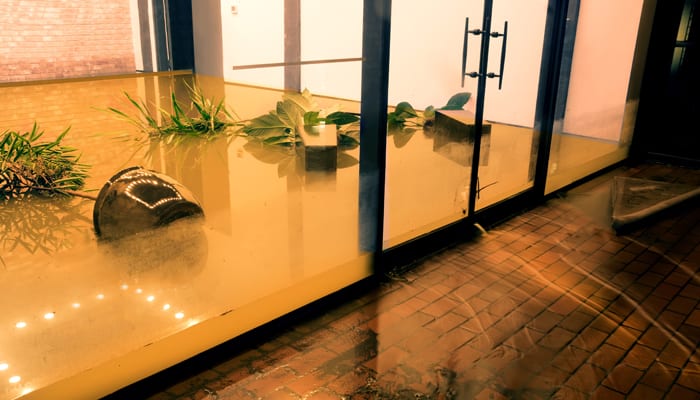 © IrinaK / Shutterstock.com
What are the risks of flooding?
According to figures from the Environment Agency, around 5.2 million properties in the UK are at risk of flooding, including 2.8 million at risk of surface water flooding and 2.4 million in danger of river or coastal flooding. This includes more than 185,000 commercial properties across England and Wales.
The number is increasing as a result of more extreme weather patterns – some premises are built on flood plains. The Environment Agency states that over the next 25 years, it's likely that more properties will be affected for the first time.
How many business fires are there?
A study in September 2018 to mark Business Safety Week revealed 19,410 fires were reported by business owners to the UK fire and rescue services in the course of a year.
Sectors where blazes occurred included 3,868 private non-residential premises, such as offices; 2,408 hotels and boarding houses; 2,089 retail premises; 860 hospitals and medical buildings and 762 call centres.
Small business owners should make sure the correct insurance cover is in place to avoid a crisis. Starting a small business is tough and some owners may feel they don't have adequate support. Having the appropriate business insurance can help your company to succeed when it comes to a disaster.
Why business insurance is important
The consequences of not having business insurance, or not having the relevant cover for an emergency situation, can lead to your business folding in the worst-case scenario.
A fire or a flood can impact on several areas of your business including your premises, stock, furniture, staff, logistics, health and safety, day-to-day processes and ultimately your finances. There's such a broad range of risks linked to a disaster that you will need help to get back on your feet.
Small businesses should always have an action plan! Failing to have one could prove costly – or even lead to the end of your company. Always make sure you have insurance cover in place.
What should you do first?
Immediately after an incident, such as a fire or flood, your priority must be safety. This means making sure your premises are secure. If you feel there's an immediate risk of danger, secure your premises so that no-one can enter and potentially suffer an injury. This is a legal requirement and you can do this without being advised to do so by your insurer.
If there's no immediate threat to people's wellbeing, you can wait for your insurance company to secure the premises. If you rent the property, tell your landlord what has happened. Most small businesses don't own their premises, so the landlord must submit a buildings insurance claim too.
The small business owner should submit their own claim for their own furniture, fixtures and fittings. This includes loss of stock too.
Importance of communication
Don't forget to tell your staff what's going on. It's easy to overlook them when you're dealing with more pressing problems such as damaged premises and stock, but don't forget they're concerned about their livelihood as well. Reassure them you're doing everything you can to rectify the problems.
Also, tell your suppliers and regular customers or clients what has happened if they are going to be affected by the accident – contacting people online in a group email is a good way of letting everyone know quickly. Maintain communication regularly as you get your business up and running again.
Do you need a loss assessor?
While many insurance claims can be relatively simple and hassle-free, you may need to appoint a loss assessor. If you don't feel you can handle the claim yourself, this is a good course of action to ensure nothing delays your claim. In the case of serious flooding or fire, a claim can be more complex. A loss assessor can handle this on your behalf.
Pressing matters will include organising and managing building works, determining interim financial responsibilities such as replacing damaged furniture, equipment and stock, and paying the staff wages. You might also need to arrange temporary accommodation.
Damage and losses must be assessed, and your claim prepared and submitted. As a small business owner, receiving the maximum settlement to which you're entitled is very important. It could be the difference between surviving or going under!
Your claim could also cover your losses in terms of business interruption, based on your estimated profits. It will be a forecast of what you would have achieved, based on factors such as the season, your budget projections and your regular expenditure.
A good loss assessor will have reliable professionals, who understand the stress of making an insurance claim. They will work hard to get your business back on track as soon as possible. Their knowledge can help to speed up your claim and maximise your settlement.
What is an interim payment?
Business insurance claims can take months to be finalised, so it might be worth applying for an interim claim. The business owner, or a loss assessor, can submit the interim claim to cover your immediate costs. These can cover material damage, staff wages and business interruption.
Don't let a flood or fire plunge your business into crisis. Contact Let Us Furnish for more details of our range of office furniture, including commercial desks, meeting and conference chairs, storage units, reception furniture and more.