The BBC has created many iconic landlords over the years for its legendary drama series and comedy shows. Some of entertainment's biggest stars, including John Cleese and the late Barbara Windsor, have featured on the BBC playing a landlord.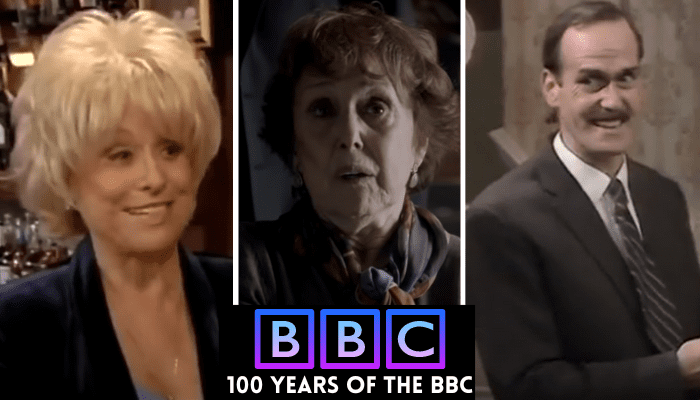 Each actor has made the role of the landlord their own, creating amazing characters who are still remembered today – in some cases, decades after their last appearance! We're taking a trip down memory lane, as we celebrate 100 years of the BBC.
1. Basil Fawlty – Fawlty Towers
John Cleese played probably the most famous landlord in TV history, Basil Fawlty. The pretentious proprietor of Fawlty Towers, a rundown hotel in Torquay, Basil was unashamedly a complete snob. His attempts to run the business efficiently always ended in farce. His interactions with his long-suffering wife Sybil (Prunella Scales) and waiter Manuel (Andrew Sachs) were hilarious.
Cleese was 36 when he started playing Basil in the BBC2 comedy series in 1975. His doomed attempts to manage the hotel and satisfy the demands of a collection of eccentric guests and tradespeople are legendary.
Basil wasn't too knowledgeable about health and safety. When he carried out cheap renovations on the property, he inadvertently removed a supporting wall – without putting anything in its place! Basil's response was to run away up the street, kidnapping a garden gnome on the way!
https://www.youtube.com/watch?v=QMuY0NVszMI
2. Geoff – Josh
The BBC sitcom, Josh, revolves around three old schoolfriends played by Josh Widdicombe, Elis James and Beattie Edmondson, who were trying to navigate their way through adulthood under the ever-watchful eye of their landlord, Geoff, played by comedian Jack Dee. The pilot episode aired on BBC3 in 2014, followed by three series between 2015 and 2017.
Born in 1961, Dee was 53 when he took on the role of the twenty-somethings' geeky landlord. One of the most interesting things about the gentle comedy was the spin-off of "Geoff's Hacks" on YouTube.
Dee's alter ago Geoff starred in a series of comic videos showing landlords how to do extremely simple repairs. He gave a running commentary as he carried out household jobs including changing a shower hose and revealing how he didn't like to shower too often himself – something viewers probably didn't want to know!
https://www.youtube.com/watch?v=pEeTbXVHoBk
3. Mrs Hudson – Sherlock
The award-winning BBC series Sherlock starred Benedict Cumberbatch as Sir Arthur Conan Doyle's legendary detective Sherlock Holmes, Martin Freeman as his sidekick Doctor Watson and Una Stubbs as the long-suffering landlady, Mrs Hudson, at their Baker Street residence. The show won three Emmy Awards and ran from 2010 to 2017 on prime-time television.
Mrs Hudson lived on the first floor of a well-furnished property at 221B Baker Street, London. She was described as a "long-suffering woman". Her tenants were "sorely trying her patience", especially Holmes, who was "eccentric" with an "irregular" lifestyle. She had to endure his strange scientific experiments and a continual "atmosphere of violence and danger" that made him "London's worst tenant".
After being held hostage at gunpoint in one episode, Mrs Hudson was rescued by Holmes, who probably wasn't the kind of tenant you would want!
https://www.youtube.com/watch?v=ZTf7DDb6KL0
4. Peggy Mitchell – Eastenders

Playing Peggy Mitchell, landlord of the Queen Vic in the long-running BBC1 soap EastEnders, was one of the late Barbara Windsor's most iconic roles. A far cry from her early career as a comedy actress in the Carry On films; Windsor played tough Peggy Mitchell from 1994 to 2016, winning the 1999 British Soap Award for Best Actress.
The legendary actress was 79 when Peggy Mitchell was killed off by the scriptwriters. The demise of the famous pub landlord was the actress's own decision, as she had tried to quit the show several times to spend more time with her husband, Scott Mitchell, but was always lured back. She was part of some of the biggest storylines in the show's history and became famous for the line, "Get out of my pub!"
Peggy's most famous moment was meeting Boris Johnson when he was Mayor of London. He made a cameo appearance on the soap in 2009, visiting the Queen Vic. Before his arrival, Peggy was fuming about the amount of litter ruining Walford. However, when he walked in, she went weak at the knees and instead had a heart-to-heart with the future Prime Minister, telling him she had almost entered politics herself!
Windsor, who died in 2020 aged 83, was one of Britain's greatest actresses, with a career spanning almost 70 years.
https://www.youtube.com/watch?v=YUXZHPcCAuo
5. Jerzei "Jeremy" Balowski – The Young Ones
When the anarchic BBC comedy, The Young Ones, first aired in 1982, it introduced viewers to a whole new generation of alternative comedians, namely Rik Mayall, Ade Edmondson and Nigel Planer. Alongside British actor Christopher Ryan, who also appeared in Only Fools and Horses, they played four hard-up students living in Margaret Thatcher's Britain.
One of the most outrageous characters was the landlord of their student house, Jerzei "Jeremy" Balowski, played by fellow alternative comedian Alexei Sayle, who was 30 at the time. Jerzei used a foreign accent because he thought it made him sound "more sophisticated".
While the students were the worst possible tenants, as they kept the house like a tip and caused plenty of damage, Jerzei was a terrible landlord, as he never carried out any repairs and was prone to violent outbursts!
https://www.youtube.com/watch?v=eylFXI20hww
Thank you to the BBC for 100 years of great programming – including some of the most memorable landlords!