Economists suggest house prices are set to drop later this year, following the soaring property market of 2021. While they haven't gone as far as predicting a major crash, the consensus is that the market is starting to cool.
The property market grew significantly in 2021, as buyers were eager to take advantage of the government's temporary Stamp Duty cut. This meant buyers in England and Northern Ireland were saving up to £15,000 in tax if they bought a home before the end of June. If they bought between July and the end of September, they could save up to £2,500.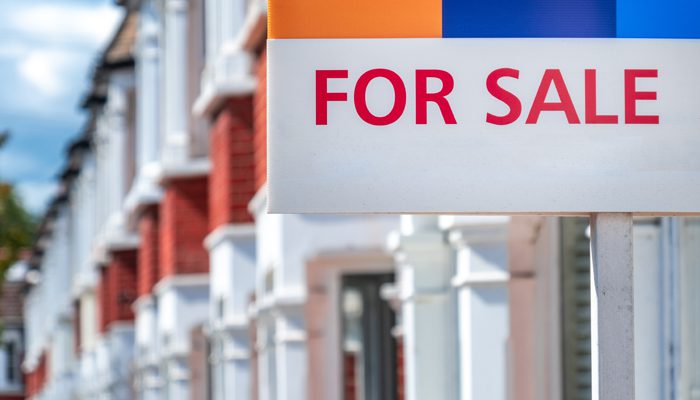 © William Barton / Shutterstock.com
Changing housing market
The number of home-buyers peaked around both these deadlines, with the biggest number of sales taking place in June 2021 at 198,240 UK-wide. There was also a peak in March 2021, when 183,170 homes were sold. This followed the end of the third coronavirus national lockdown, as people had the ability and confidence to move more freely.
With sales almost back to pre-Covid levels, the booming market has now started to slow down again. In February 2020, just before the pandemic began, there were 98,000 home sales in the UK. One year on, in February 2021, this number had increased to 144,000 due to the Stamp Duty cut. Data from HMRC shows around 108,000 transactions went through in February 2022.
This figure has remained fairly consistent, standing at 109,000 when the latest statistics were released in May this year. Economists say the rapid increases experienced throughout 2021 appear to have finally levelled off.
How has this affected house prices?
House prices across the UK increased in line with the booming market during 2021. A combination of the Stamp Duty holiday and the pandemic led to a very volatile market.
The average price of a UK property in April 2022 was £281,161 – an increase of 12.4% year-on-year. House prices in all four home nations increased steadily during the first quarter of 2022.
In England, the average property price was £299,000, up from £250,000 during the same period in 2021
In Northern Ireland, the average 2022 price was £183,700, an increase of 5% compared with the first quarter last year
House prices in Wales rose from £185,000 in the first quarter of 2021 to £211,000 in the same period this year
In Scotland for the same period, the average property price increased from £161,000 in 2021 to £187,000 in 2022
The figures supplied by the Land Registry's UK House Price Index were based on actual property sales, instead of the asking prices. Economists say this is the most accurate data available.
Will house prices drop?
Prices are now starting to level off – and economists cautiously predict they will start to fall in line with the current economic crisis. According to Rightmove, a combination of affordability issues and additional properties going on the market could result in prices steadily decreasing during the second half of 2022.
The company believes this may lead to several month-on-month price falls all over the UK towards the end of this year. This could leave the annual house price growth at around 5% by the end of 2022, as the early price increases in the first quarter will offset the predicted decreases in the third and fourth quarters.
To date this year, London has seen the lowest growth rate in the UK, but all of the Home Counties are looking set for a fall. In Northern Ireland, one area around Belfast has already seen a price drop of 0.5% to £193,200.
A report from Property Pal suggests the rising cost of living in Northern Ireland, coupled with higher mortgage rates, affordability issues and a weak economic outlook, will see any price growth "moderate" later in 2022.
Property price increases in Scotland during 2021 were in line with the rest of the UK, according to data from UK HPI (Scotland). The largest increases were experienced in Argyll and Bute, the Highlands and Islands. However, recent data compiled by Lloyds TSB suggests property prices in Scotland have already started to drop.
Research suggests around two-thirds of properties in east Scotland have sold for less than the Home Report valuation recently. A further report by the ESPC claims 15% of sellers are choosing to market their property at less than the valuation, reflecting the current downturn.
House prices in Wales are also set to fall by the end of 2022, with the cost of living crisis being blamed. According to predictions by the Centre for Economics and Business Research, Wales is likely to see house prices fall by up to 4%.
Areas of Wales saw the highest growth in house prices in the UK during the pandemic, as homeowners facing the prospect of a long lockdown rushed to get out of urban areas and live in the countryside. Now it looks like the bubble is finally about to burst all over the UK.
What will happen once housing prices decrease?
Research by Capital Economics suggests house prices will fall by 5% over the next two years. The Bank of England is likely to continue to increase the interest base rate in a bid to combat rising inflation.
Market analysts suggest that as the economic crisis continues, it will become more expensive to borrow money and more difficult to find a cheap mortgage deal. When fewer cheap loans are on offer, there tends to be less demand for houses, as people can't afford to take out a mortgage. This could cause house prices to fall further.
While there will still be homes for sale for people wishing to buy, it's unlikely there will be a rush for sales, as many people hit by the economic crisis won't be able to afford a mortgage deposit.
Is this a good opportunity for landlord investment?
For landlords considering expanding their portfolio, this could be a good opportunity for investment. If you can afford to buy a home now as a rental property, start checking local price comparisons and monitor if they are falling, as predicted.
Buy-to-let can still produce excellent returns, although if you're an experienced landlord, you'll appreciate this may not happen right away. This is a good time to buy if you're looking for a longer-term investment. Bear in mind that when the market is going down, you won't get as much for your property, should you decide to sell it again in the near future.
If you're in it for the long haul, this could be a great time to make a landlord investment. Do your research into local supply and demand to make sure you buy a property with a good chance of income and capital growth.
Many people prefer to rent furnished properties, as it saves them the hassle of having to move or buy all their furniture. Renters tend to be more attracted to furnished houses and flats, as they are more flexible.
Moving into a new home with high-quality furniture is much easier for tenants who are on the move. As a landlord, you can also command a higher rent for a furnished property. Choosing furniture packages can save you money and time, without sacrificing quality, even in the more affordable sectors.